I specialise in bespoke calligraphy, having created designs for prestigious clientele such as the Duchy of Lancaster, Lancashire County Council,
The Sheriff's Office, along with other commissions from various sources.

On the 31st July 2020, Keighley Town Council awarded Captain Sir Tom Moore the Freedom of the Town and made him an Honorary Freeman. The asked me to design and create the Freedom Scroll to hand to him at a special ceremony. It was hand painted and scripted on Ivory Parchmarque presented in a wooden casket with a brass plaque on the lid.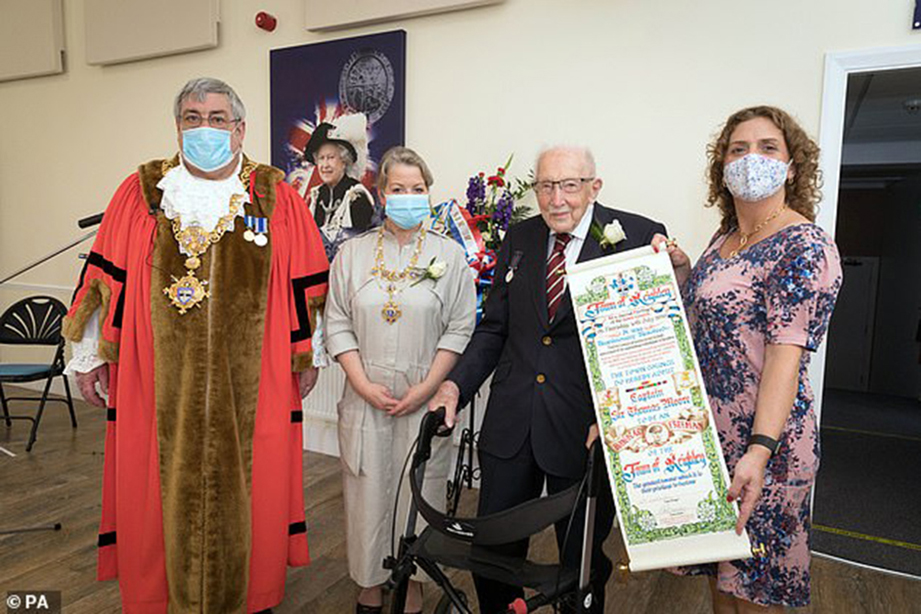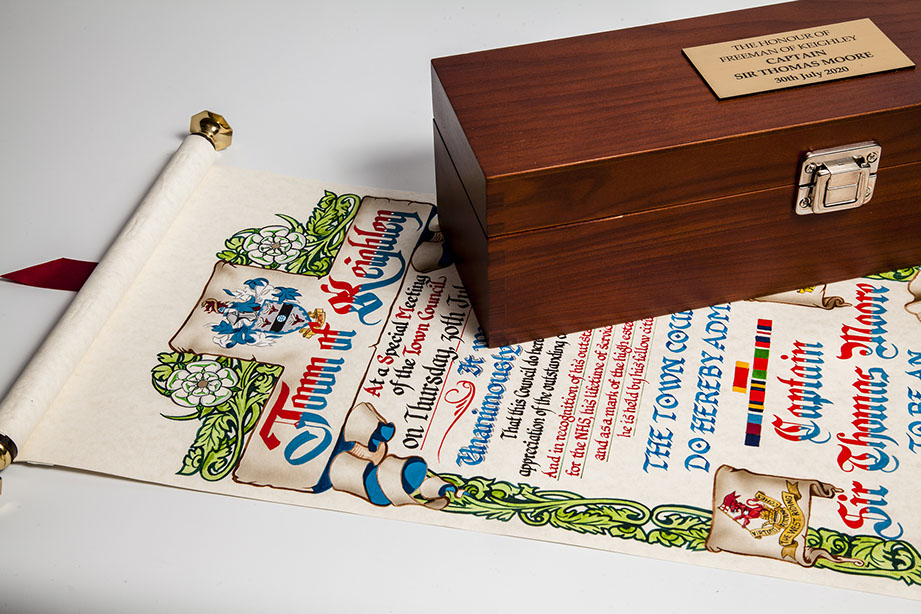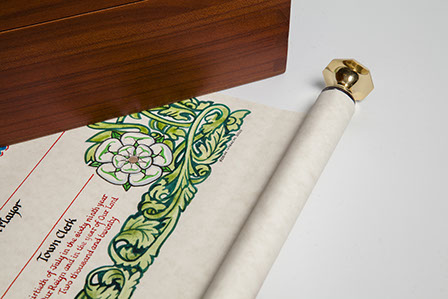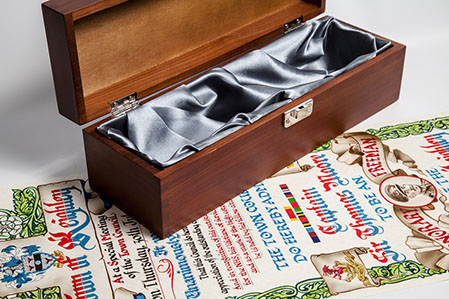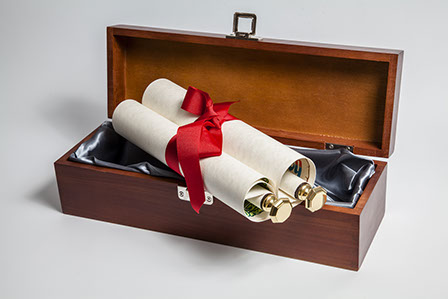 Keighley Town Council and its twin town Paix Du Nord in France agreed to renew their 100 year old Twinning arrangement with a ceremonial signing of the charter by the respective Mayors. The size of the charter is A2 painted and scripted by hand using both town's Coat of Arms as the main focus. As one hadn't been produced before, I had a free hand in designand layout of the artwork.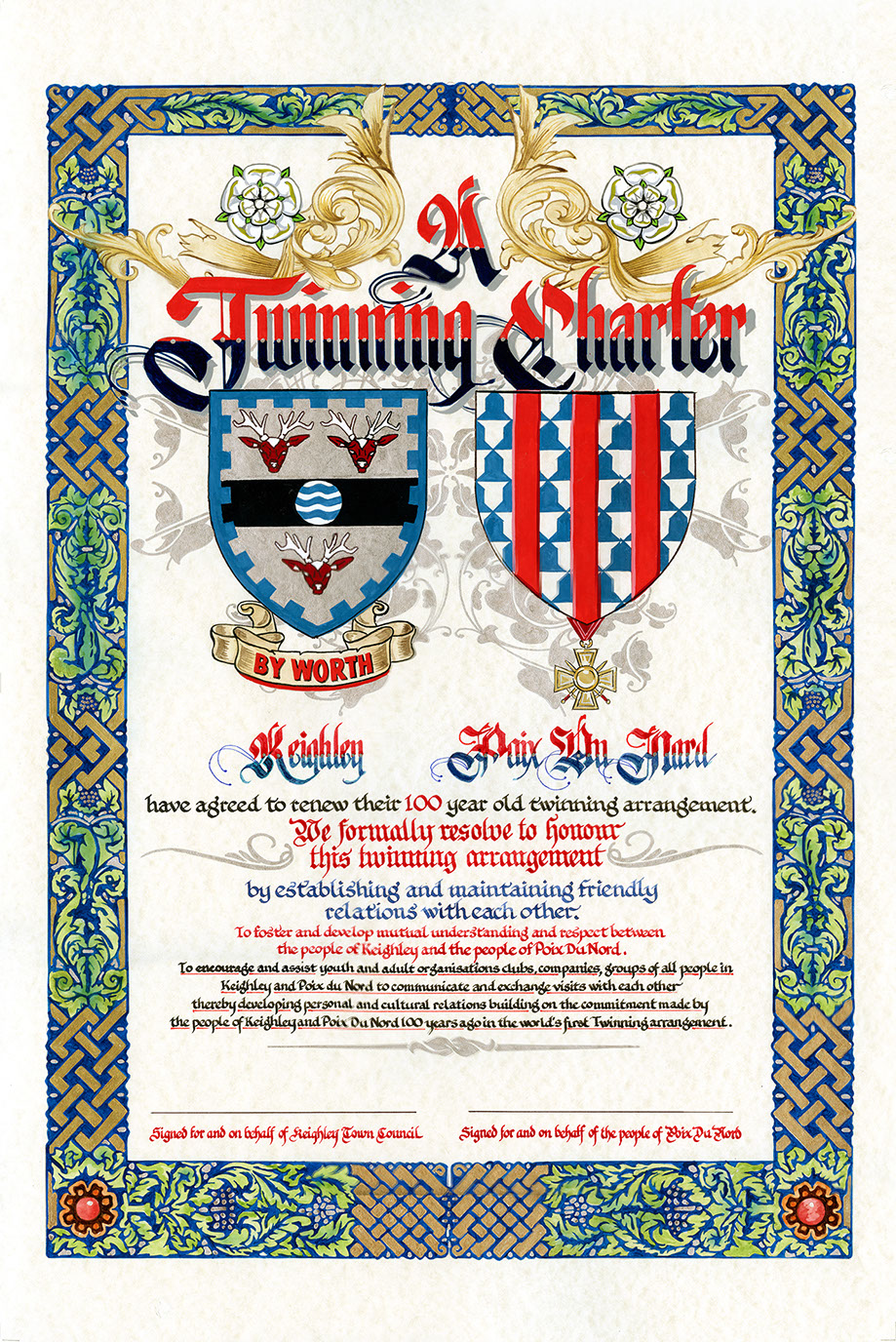 The village of Ribchester in Lancashire wanted a roll of honour producing to be framed and placed in the local church for all the local parishioners who served in World War One including the seventeen who were killed or missing in action.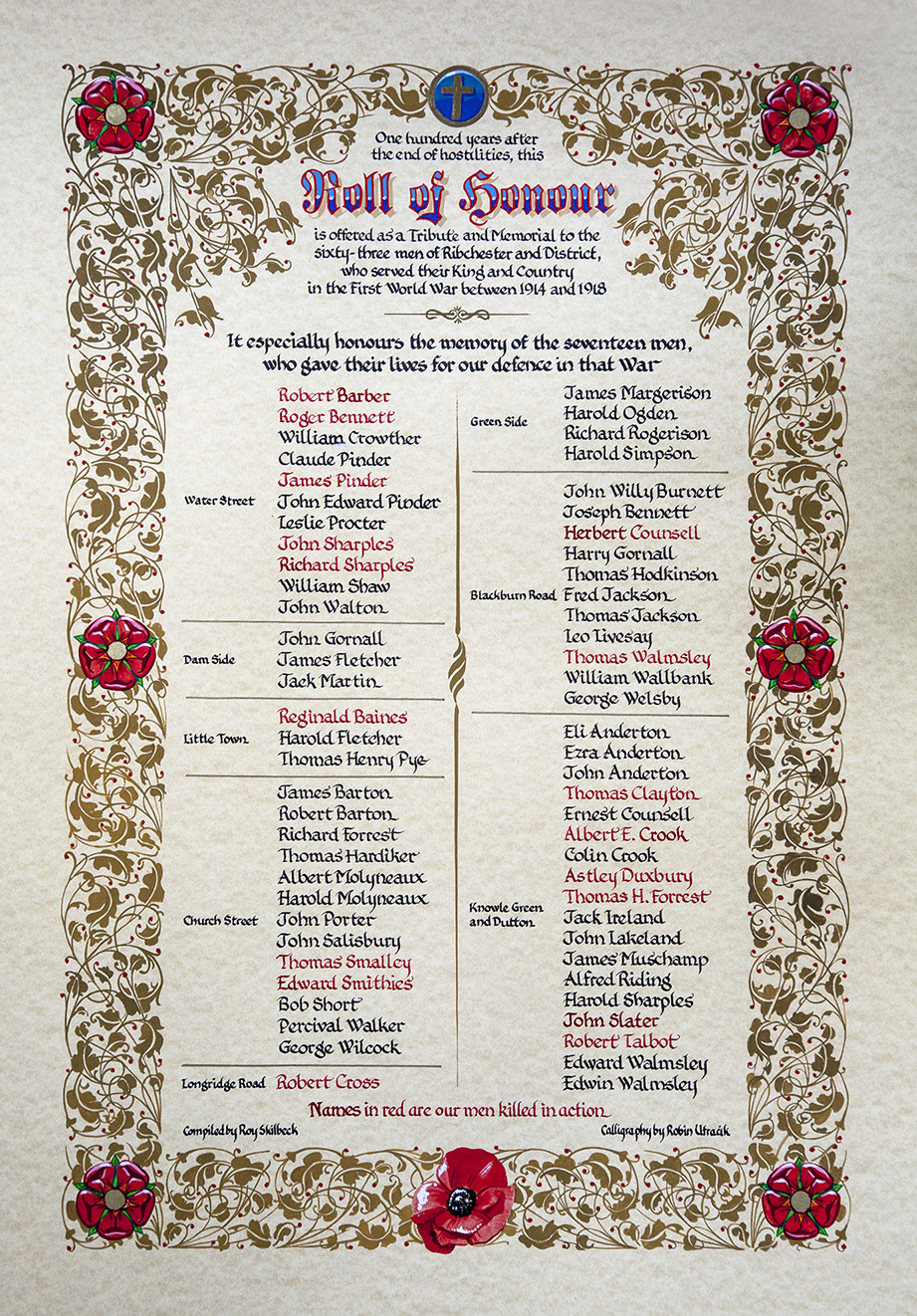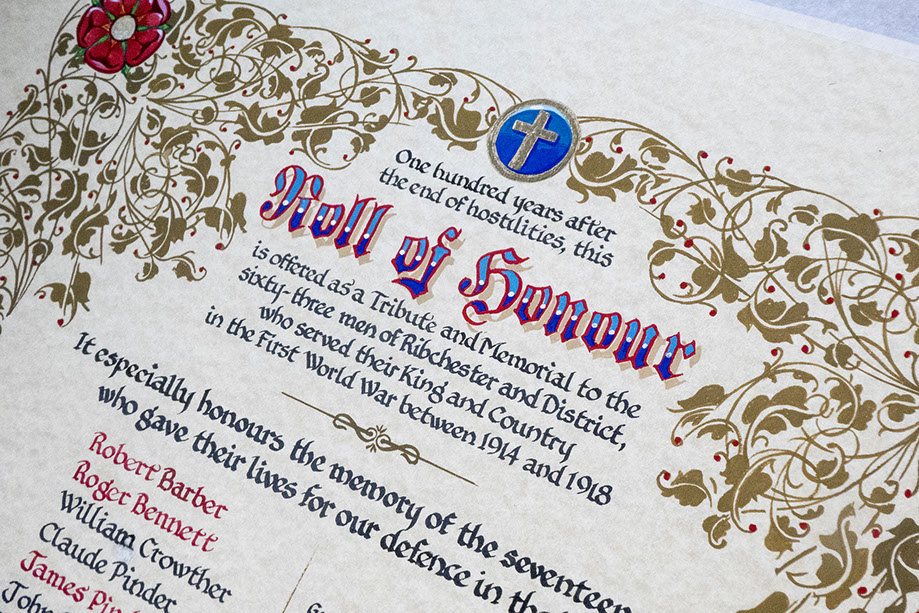 Completed a Roll of honour scroll for The Duke of Lancaster Regiment at Fulwood Barracks with a list of all the serving Kingsmen, NCO's and Officers who lost their lives since the Regiment was formed in 2006. It was placed in a time capsule and buried beneath the new Regimental War Memorial which was unveiled in the NATIONAL MEMORIAL ARBORETUM where the Commander in Chief, Queen Elizabeth II unveiled and buried the capsule. I felt I had to do the best job I could possibly do, even though nobody is going to see it for a long time!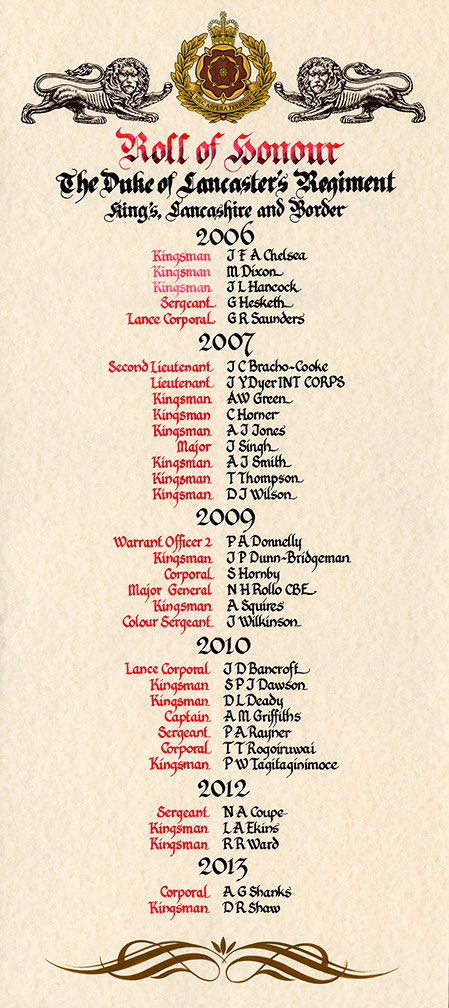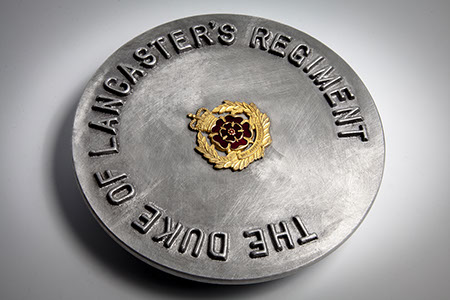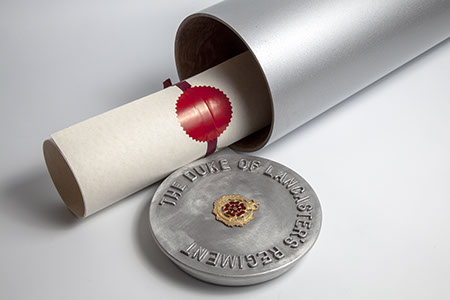 I had 4 days to produce a 'Freedom of the Town' scroll for Steven Burke MBE double Olympic gold medallist who was presented with it today. They wanted it to match up to the last one that was done way back in 1972. Doesn't look like they give out this honour too often!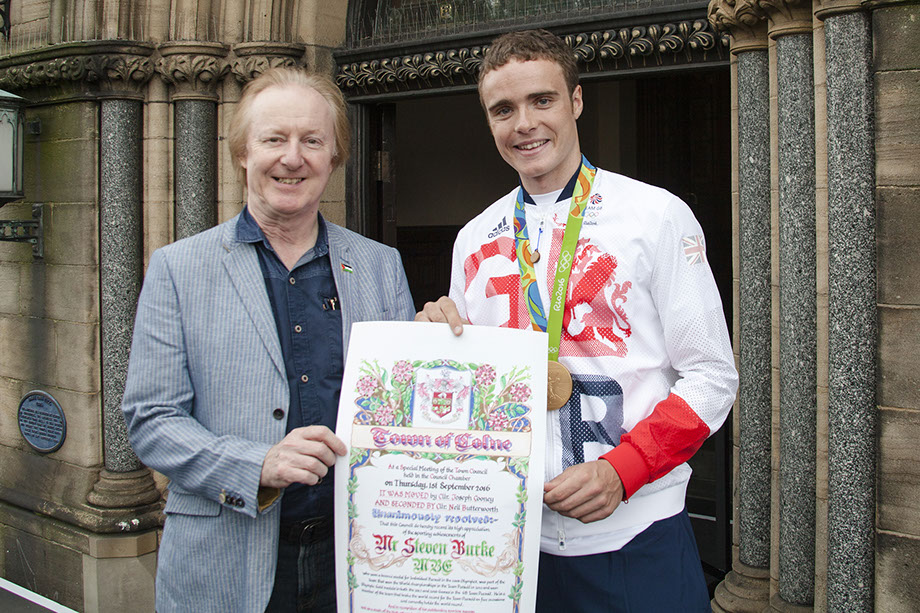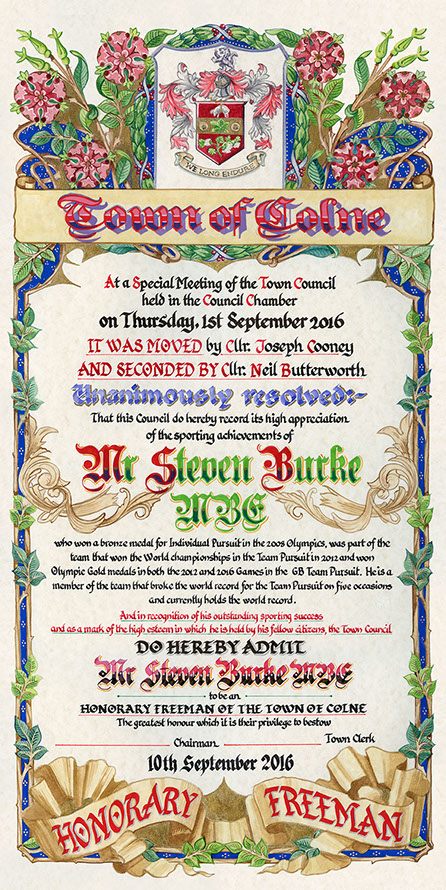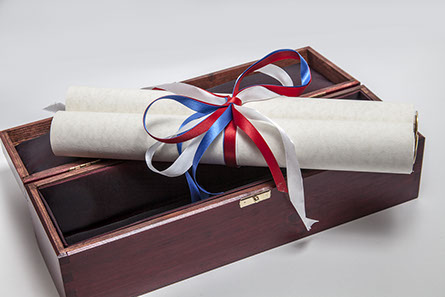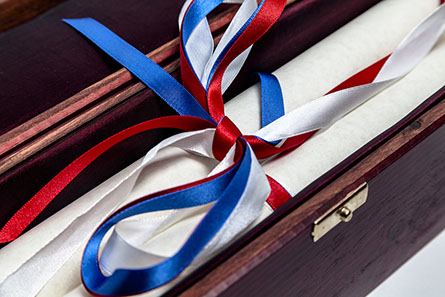 History of the Guild Merchant
The right to hold a Guild Merchant was conferred by King Henry II upon the Burgesses of Preston in a charter of 1179; the associated Preston Guild is a civic celebration held every 20 years and 2012 is another Guild year. It is the only Guild still celebrated in the UK and as such is unique.
Before 1328 a celebration had been held on an irregular basis, but at the guild of that year it was decreed that subsequent Guilds should be held every 20 years. After this, there were breaks in the pattern for various reasons, but an unbroken series were held from 1542 to 1922. A full 400 year sequence was frustrated by the cancellation of the 1942 Guild due to World War II, but the cycle resumed in 1952.
Guild week is always started by the opening of the Guild Court, which since the 16th century has traditionally been on the first Monday after the feast of the Beheading of St. John the Baptist (the decollation of St John the Baptist) celebrated on 29 August. As well as concerts and other exhibitions, the main events are a series of processions through the city. Numerous street parties are held in the locality.
The 2012 Guild formally opened on 2 September with a mayoral proclamation and the return of "friendship scrolls" that had travelled the world. Highlights in the programme for the 2012 celebration included two concerts in Avenham Park - one by Human League and another, a "Proms In The Park", featuring José Carreras, Katherine Jenkins and the Manchester Camerata.
Reproduced courtesy of Wikipedia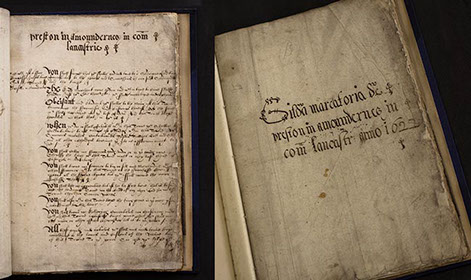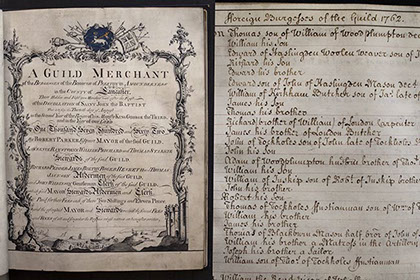 One of the early Guild Rolls from 1622, everything still in Latin. All the Guild books are stored at the County Hall Records & Archive office.
This one from 1762, hundred years later and much more illustrative and all in the English language. Still very mono coloured, with the only hint of colour on the Preston seal.
Preston Guild 2012 book
I was commissioned by Preston City Council to produce the 2012 Preston Guild Book, which is a 'one-off' publication of principally a list of Burgesses, Aldermen and everyone who have had any involvement and contribution to producing the 2012 Preston Guild.
Page size is 410 x 320mm and it is entirely hand painted and written. There are numerous introduction pages which are very 'design heavy', so a design template/theme has been created before designing each individual page. The completed book is leather bound with Gold Leaf tooling on the front and spine by Peter Doyle, professional bookbinder whose workshop can be seen in Unit 5 in Worden Park Craft Centre in Leyland.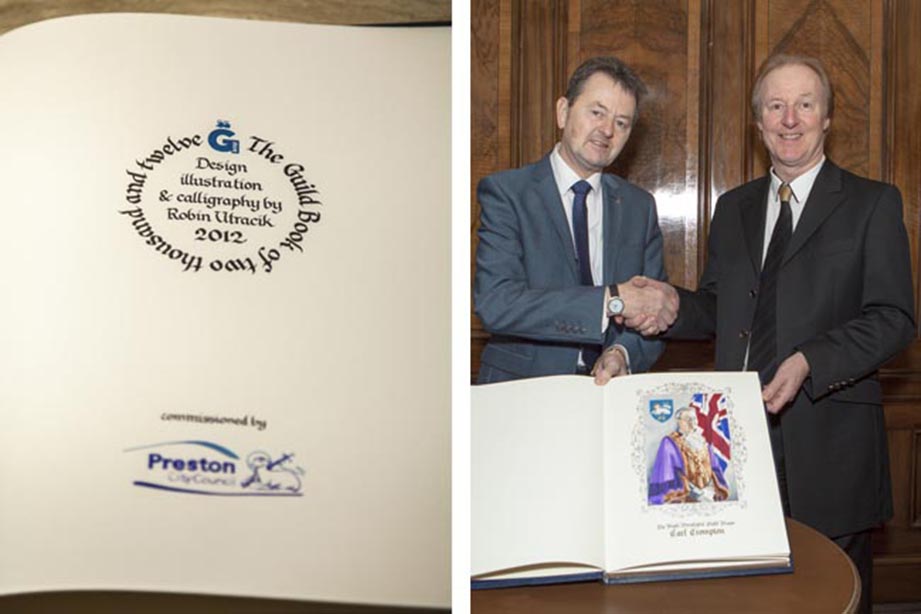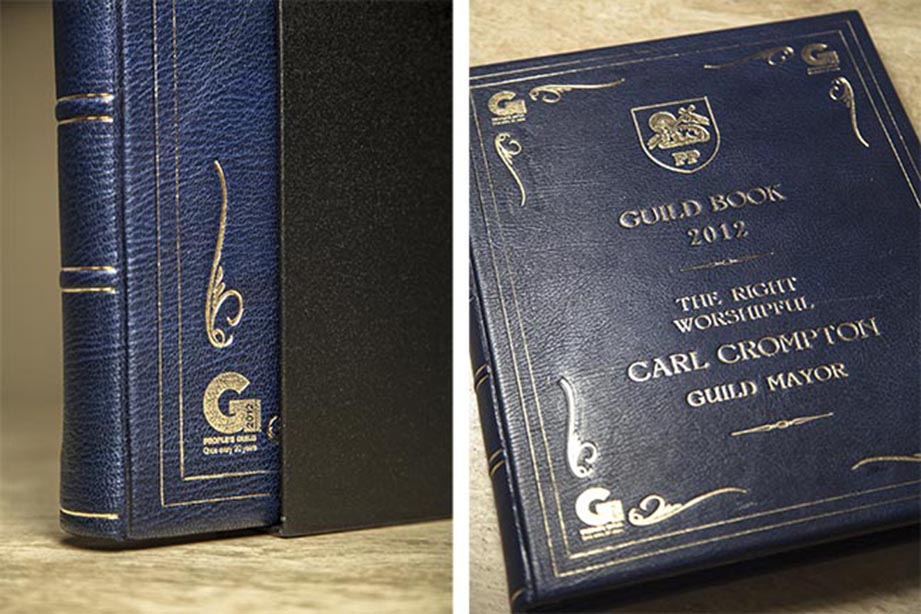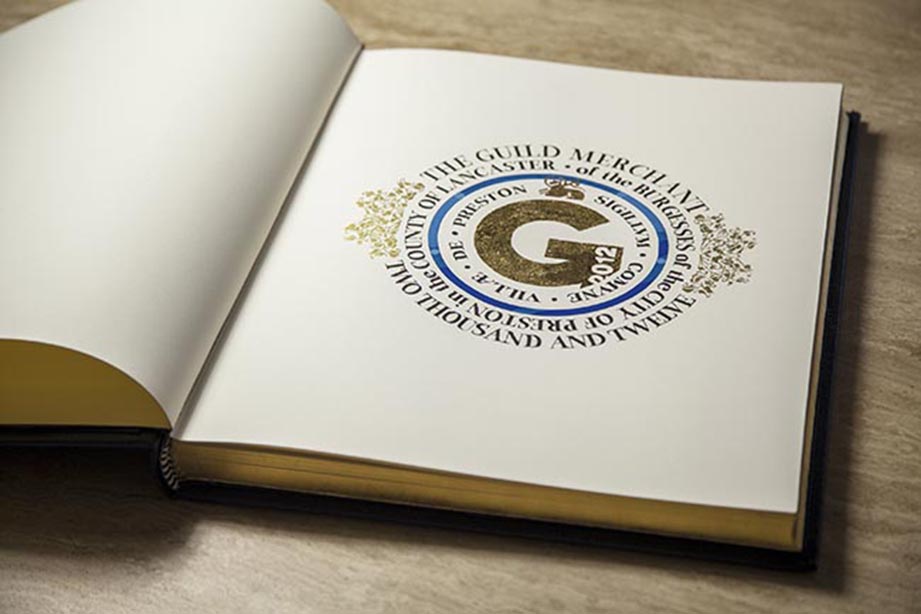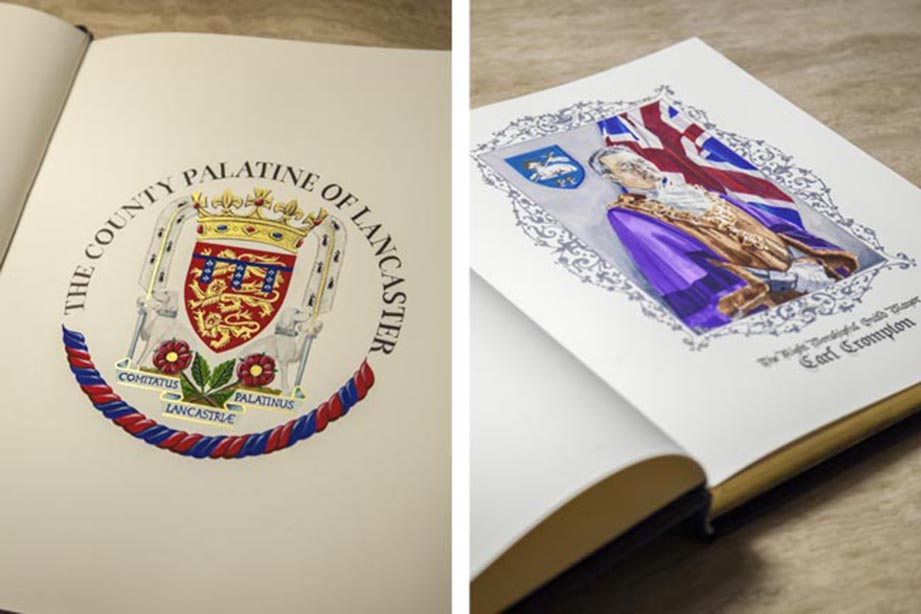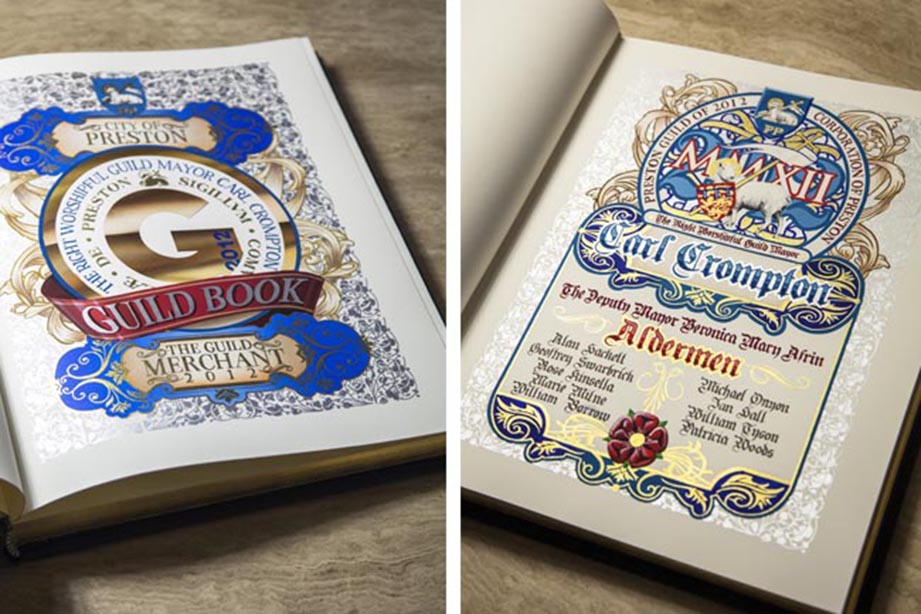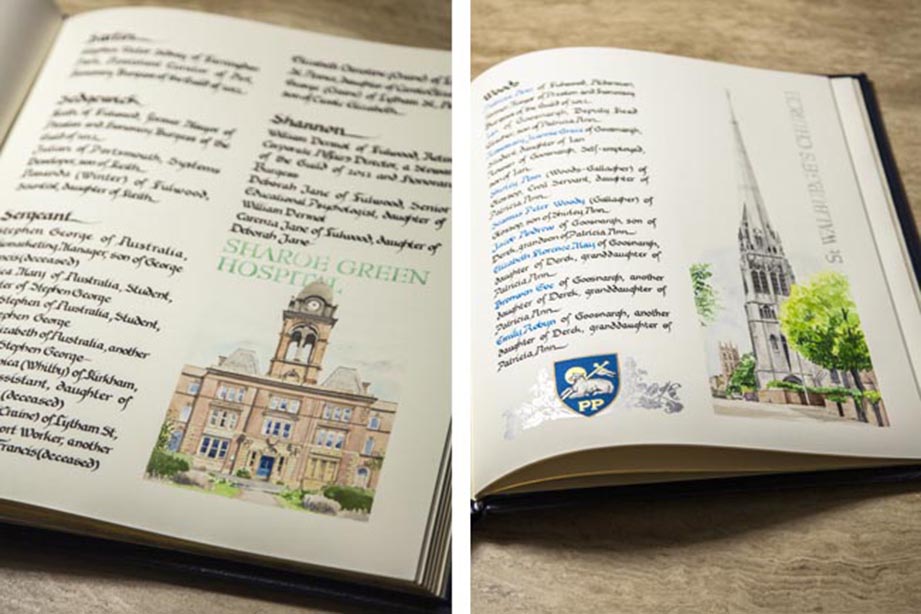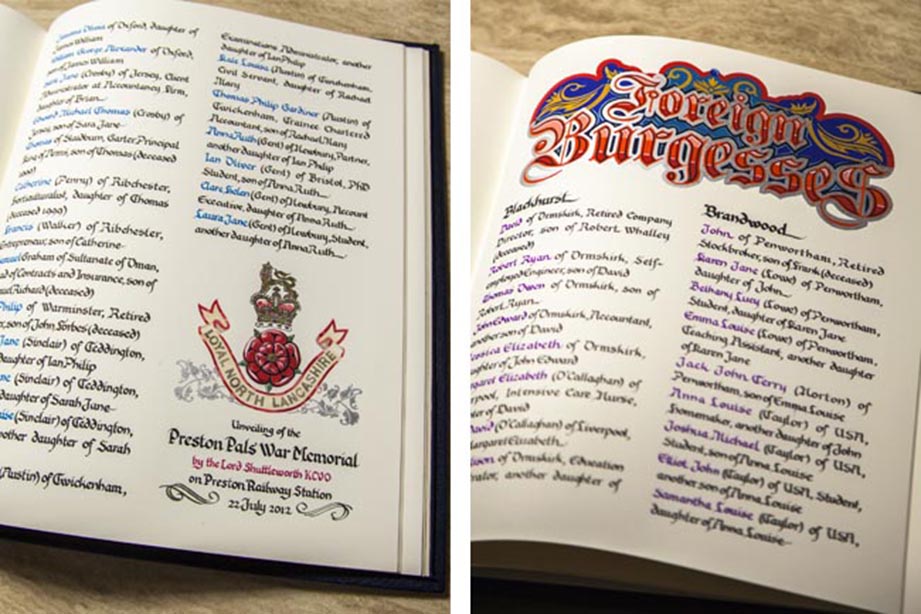 A commission by Lancashire County Council in 2012 asked for a 'scroll' to be produced to present to Her Majesty Queen Elizabeth II in recognition of her Diamond Jubilee and being on the throne for sixty years. A second one was requested which is on show in County Hall.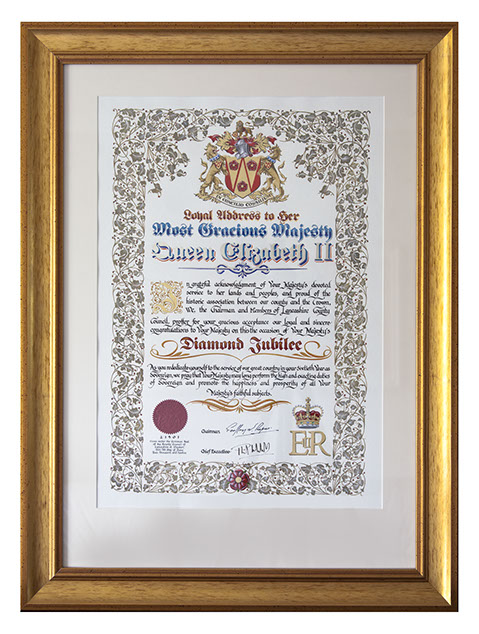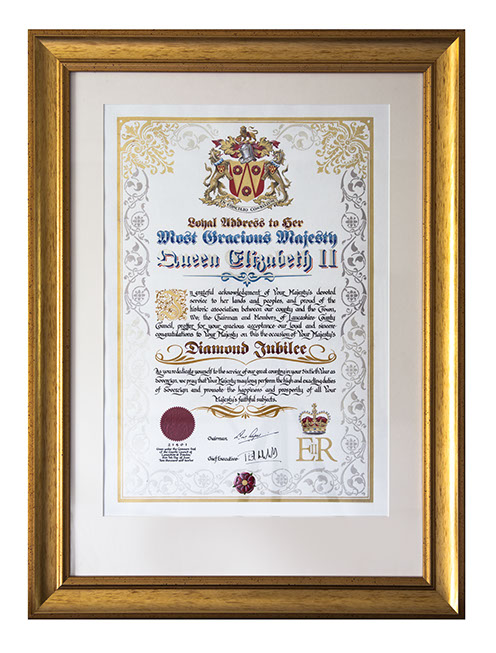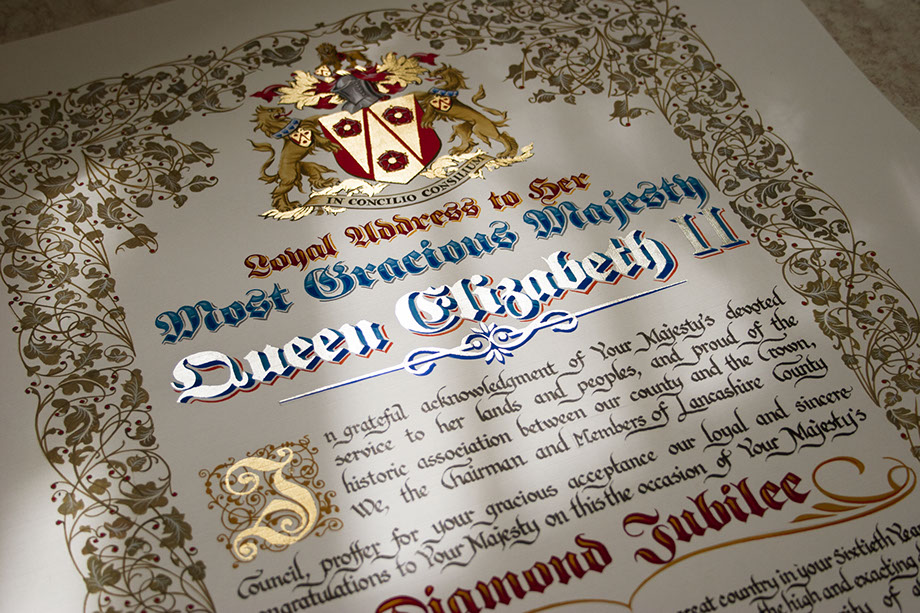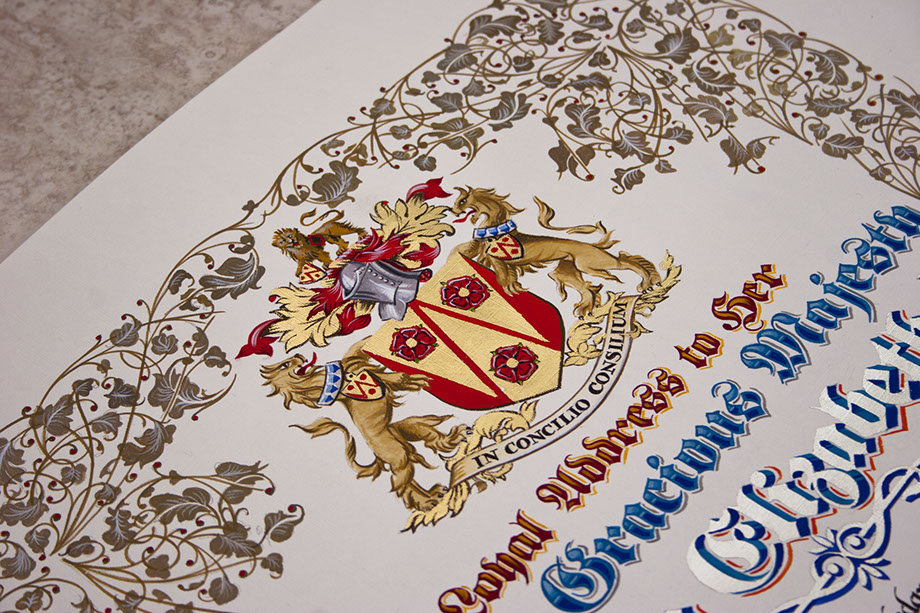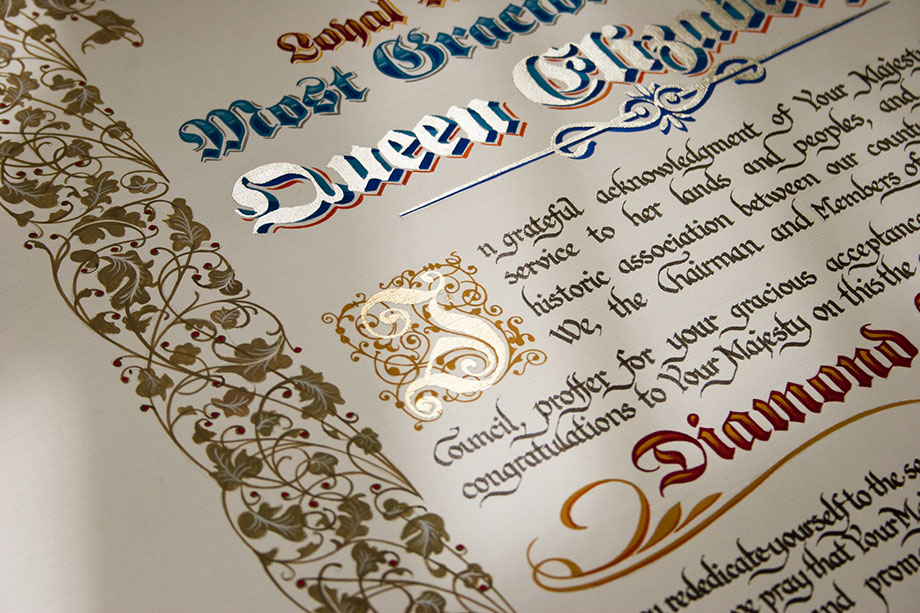 Commissions
Poems and quotations
A poem, quotation or other text that has personal meaning for the recipient, can be written in the form of a small intimate book, a card or as a piece to be framed and hung on the wall. The use of a style of writing, colour of ink and appropriate materials that are true to the words of the text, will produce a gift that will be treasured forever.
Leaving or long service award
Certificates or pieces of calligraphy using words provided by you, to create a special gift for your staff. The work can be mounted and framed.
Family trees
The family tree written in calligraphy is a talking point when displayed in your home and a piece of history to hand down to future generations.
Celebration pieces
Individual pieces to celebrate a new baby, wedding anniversary or another special occasion.
Corporate
Add a touch of class to your corporate event with handwritten calligraphy on invitations, envelopes and place cards. Have recipients' names written in elegant calligraphy on your own award certificates.
A handwritten name on a place card or invitation will be retained and treasured by the special people you chose to invite to your event or whose achievement you wish to celebrate. With adequate notice and planning it is possible to accommodate large orders (500+) for the writing of names on invitations and the addressing of envelopes.
Some of the services offered:
• Create signature boards for celebration events e.g. staff retirement parties or corporate functions
• Inscribe your staff members' names on staff achievement/internal training awards
• Create long service or retirement awards for your staff
• Write a favourite poem or section of text for a staff member's long service/leaving present
• Create seating plans for your corporate entertaining and internal functions.
• Design an invitation or menu ready for the commercial printer
• Write your guests' names on your own invitations and envelopes inviting them to corporate events.
• Inscribe prize winners' names on your own certificates
• Create bespoke certificates to celebrate outstanding achievements
• Inscribe visitor books
Please get in touch with me for more details and a personalised quote.

web design: Northern Studios
copyright © Robin Utracik 2021
ROBIN UTRACIK • HERALDIC ARTIST
10 BRIERY HEY, BAMBER BRIDGE, PRESTON, LANCASHIRE PR5 8HU
t: 01772 337599
e: robin@heraldic-artist.co.uk